ATX 350W with Battery Backup function
Production information
350W Nonstop Power Supply (RS232C signal type)
Long-life Design of 10 Years at 45 deg. C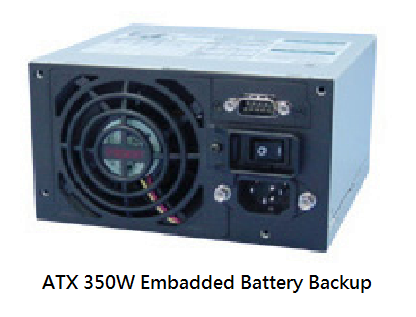 -Backup function protects PCs at blackout
-Independent voltage-stabilizing circuit adopted in all outputs, all outputs have the minimum load of 0A, stably drives the latest high-performance CPU
-Thermo-sensing speed control fan allows for a quiet environment; variable fan speed switch dedicated to reduce heat of CPU
-Connector system is adopted to adjust to various output connectors
-Signal unit and cooling fan can be replaced
Output specification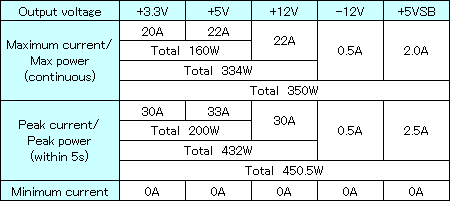 Standard specifications
Compatible case size

PS2

Outline drawing

150Wx86Hx140D

Weight

1.80 kg typ

AC

85-264V

DC

24V (Dedicated battery package only)

AC

73% typical at AC100V and 77% typical at AC240V

DC

73% typical at 24V DC

99% typical at AC100V, and 97% typical at AC240V

Worldwide

AC, DC input

Battery only for DC input

UL60950, CSA60950 (c-UL), EN60950, and CE marking

Compliant with IEC61000-3-2 (Ed. 2.1) class D and EN61000-3-2(A14) class D

Compliant with VCCI class B FCC Rules class B and EN55022 class B

Low Voltage Directive

Electrostatic discharge to meet EN61000-4-2.
Radioactive radio-frequency electromagnetic fields to meet EN61000-4-3
Fast transient burst to meet EN61000-4-4
Lightning surge immunity to meeet EN61000-4-5
Immunity to conducted disturbances, Conductive radio-frequency electromagnetic field to meet EN61000-4-6
Power frequency magnetic field immunity to meet EN61000-4-8
Voltage dips and fluctuation to meet EN61000-4-11

83,000H

0 to 45 deg C with full-load and to 60 deg C with 70% of load

0.5mA max. at AC100V and 1mA max. at AC200V

SU-RS (RS232C),SU-BU (Buzzer) ,SU-US2 (USB)

Three years after delivery. However, if defects belong us, the defective unit shall be repaired or replaced at our cost.
Replace AUP-X-300 Apollo USPS
Replace AUP-X-300 Apollo USPS